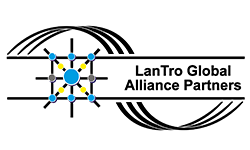 Global Connection
LanTro Global Alliance Partnership
An alliance of like-minded, accredited, specialist cabling infrastructure service providers, Syndeticom is the Australian partner of this US $400m global organisation.
LGAP is the only alliance of it's kind in the world and is the largest voice & data cabling contractor alliance across the globe. In 2005 Syndeticom became the first alliance partner for LGAP, an alliance that now spans every continent in the world.
Global reach, local support
LGAP is comprised of partners from every continent, with the main base being registered in Singapore. Partners include industry mega-weights such as LantroVision in Asia, USIS in North America, LMGIQ in the UK,W-TEC in Europe, Interconnect in South Africa and Apecatu (formerly DMI) in South America. Syndeticom has been the Australian partner since 2005.  Up until early 2018, when LGAP welcomed Teltrac Communications Limited as the New Zealand partner, Syndeticom was also acting as the New Zealand partner. Syndeticom hosted the LGAP annual key partners meeting in Sydney in 2018.
Watch the video below to learn more about LanTro Global Alliance Partnership.
Customers First
Global Alliance, Local Support
LGAP provides customers with a consistent, high quality of service at a lower cost whilst delivering an unsurpassed level of service management information and control across all territories. LGAP customers receive:
High quality, global service catalogue

A guaranteed, global SLA framework

Online, real-time global service management reporting & financial control

A consistent global pricing methodology and control in local currencies

Global account governance process

An option for a single point of contractual engagement and responsibility
Visit the LGAP official website to find out more about the alliance and our partners.
LGAP Website